Here is the passage I read as part of my sermon this morning:
"It is written in the law that the priest should take two doves, and kill the one, and sprinkle the living one with its blood, and loose it and let it fly free. That which was done was a figure and shadow of the truth; for Christ was slain, and His blood sprinkling us has made us to grow wings, for He has given us the wings of the Holy Ghost, that we may fly without hindrance into the air of the Godhead." 47.2
Its from Sermon 47 of the 'Fifty Spiritual Homilies Of Saint Macarius The Egyptian'
(N.B. Most think that these were written not by Macarius himself, but by one of his followers, which is why often it will say 'Pseudo-Macarius')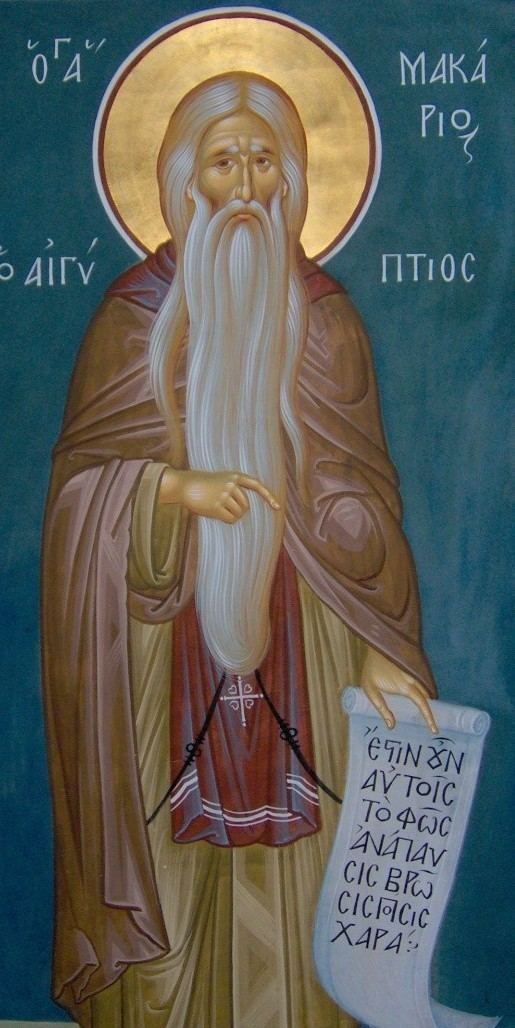 He was an interesting chap. Here is just one story from his life:
A certain young girl in the village became pregnant and accused Father Macarius of fathering her unborn child. The people without weighing the matter immediately sought him out and brought him back to the village. They beat and whipped Father Marcarius severely and hung huge black pots around his neck. He was forced to go before the village while they were mocking him and saying, "This monk seduced our daughter. Let him be hanged." With the merciless behavior shown to him he continued in humility.

When allowed to return to his cell, he gave a young man all the mats that he had made from the work of his hands. Father Marcarius instructed the young man to "Sell these mats and give the money to MY WIFE that she may eat." Father Macarius in thought had accepted this young woman as his wife without a single denial or bitter thought. He worked night and day making mats to send money to her. Humbleness was the mother of forgiveness in this saints soul.

At the time of the young girl's delivery, she suffered many days in labor. The unbearable pain motivated the girl into telling the truth regarding Father Macarius. She related to all that she had falsely accused this priest and that he had never so much as touched her. Having not been able to deliver until she confessed, the entire village was remorseful at their judgmental actions. When Father Macarius heard that the village was on route to seek his forgiveness he fled to the place where he would live the remainder of his holy life. His humble and forgiving natures were the clothes in which he would wear throughout his life.